For a limited time, all products on this page will receive a $10 USD discount (shown on SWREG purchase page).
KoolMoves Flash authoring tool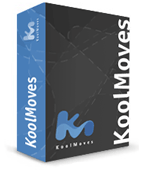 Used by both professionals and novices to create rich interactive content for web sites, KoolMoves is a popular Flash authoring tool with rave industry reviews!
Combining ease-of-use with a wealth of powerful animation effects, KoolMoves makes it easy and inexpensive to create professional quality animations for web sites.
As Adobe Flash® has developed into the standard for animation on the web, KoolMoves has emerged as an advanced but low cost alternative to Flash. In addition, Koolmoves exports as iOS friendly Html5 and AVI/MP4. Html5 export has now been integrated with jQuery Mobile Widgets.
Only $39 USD
System Requirements: Windows XP/Vista/7/8
KoolShow Html5 authoring tool
KoolShow (the Html5 portion of KoolMoves) provides an easy to use interface for creating Html5 (non-Flash) animations for text, images, vector graphics, audio, video, slideshows, and jQuery Widgets.
With the same frame-based animation capability of KoolMoves and iOS friendly Html5 export, KoolShow is a smart choice for reaching mobile device users.
No knowledge of Html5 is required to create your animations.
Only $39 USD
System Requirements: Windows XP/Vista/7/8
KoolShow running in Crossover v12.5 on OS X 10.8.5 Mountain Lion screenshot
KoolWizard flash image and text effects


Designed to let you be productive and get results in minutes, KoolWizard (a lite version of KoolMoves with Flash export only) focuses on text and image effects.
KoolWizard is ideal for non-professional web designers who do not require the advanced features of KoolMoves.
Featuring a wizard-driven user interface, no knowledge of Flash is required to create your animations.
Only $19 USD
System Requirements: Windows XP/Vista/7/8
"Hi, i normally don't do this - as a matter of fact, i don't think i've EVER done this, but i just had to give credit where credit's due. I've used and own a lot of animation apps and Koolmoves is my favorite. My others - Anime Studio Pro, Toon Boom's Animate, SwishMax, Poser Pro 2012, etc, are great and all and i use them as well, but i use KoolMoves more, BION. So, i said all that just to say THANKS for making such an awesome, versatile, and yet user-friendly fun app, all for under an unbelievable $50."
"I just have to tell you. KoolMoves is the best software value I have ever worked with! We were gonna spend $300 but I found KoolMoves!"
"I ABSOLUTELY LOVE THIS TOOL!!! It saves me a ton of work!!!!!"
"The simplicity of use of this product astounded me. After five minutes I created a movie I would have been pleased to put on a customer's website."
"It is still one of the best programs I ever had the pleasure to download. Intuitive and simple to use, yet powerful in its efficiency and sophistication."
"I just really wanted to say... what a FANTASTIC program!"
"This has to be one of the best-kept secrets out there in design, multimedia, and animation... I stumbled on it completely by accident, and within moments of using it knew it was special."
Flash tools, like KoolMoves, are basically animation tools. So it is not surprising that most things made with them contain animation. Some use it subtly, like Flash apps and media players. Others make a big show of it, like Flash games and online greeting cards. Mysteriously, this wide range of uses is no longer what is generally meant by the term "Flash animation".
What happened? Hint, a sinister conspiracy is not the answer. Spoiler alert! It was due to the growing success of Flash on TV, in the movies and as webtoons. Wikipedia calls it a renaissance. Once the popularity of this type of entertainment reached a certain tipping point, there was a shift in terminology. Now, Flash animation almost exclusively means Flash animated films.
"Simon's Cat" animations are good examples:
www.youtube.com/watch?v=l5ODwR6FPRQ or www.youtube.com/watch?v=A3JC24p0YsA
But, Flash animation comes in a variety of other styles as well. It can be: a) silent or with sound, b) color or black and white, c) 2D or 3D, or d) using videos or photos, either in the background, or as moving part of the animation.
In other words, Flash animation is kind of a grab bag, where almost anything goes. The good news is that you do not have to be an expert to create your own Flash animation. Many business people, teachers, and artists, have found it a great way to engage their audiences. True, some of the big name products are tricky to learn and use. But KoolMoves makes the process much easier for you. And it's screen is far less cluttered, which gives you more room to work. People from all sorts of backgrounds and of every age have used it. Kids all over the world have been playing with it for years.
All the various styles of Flash animation involve making something change over time. One powerful way to do this is by using scripts. KoolMoves provides several motion scripts to chose from and lets you write your own. Another way to make change over time is by using frames. This can be done in great detail by working frame by frame. Or, you can just make the beginning and end frames for each major step in the action. Then the in-between frames will be made for you automatically. This shortcut is called "key framing".
Once you get past the basics, there is so much more to explore. You can mix animation methods, apply filters, and add effects. It is also possible to create repeating cycles for waking, of wing flapping, etc. by putting moveclips inside your movies. And Koolmoves offers many more advanced features like ease-ins which will enable you to take your work to the next level.
We are here to help you and your audience have a great time with Flash animation.